ABOUT US              NEWS              ORDER            PRICES              PARTNERS           CONTACT US
20.07.2018.

Dear Customers!
Seqomics Ltd. Animal Health Laboratory will be closed between 10-17 August 2018. Samples arriving in this period will be banked, sample processing starts on 21. August 2018. Results in 5 business days are not possible. Priority processing is not available in this period.
Please take into account these informations when placing a new order in this period.
SeqOmics Ltd. Animal Health Laboratory
---
 
14.09.2017.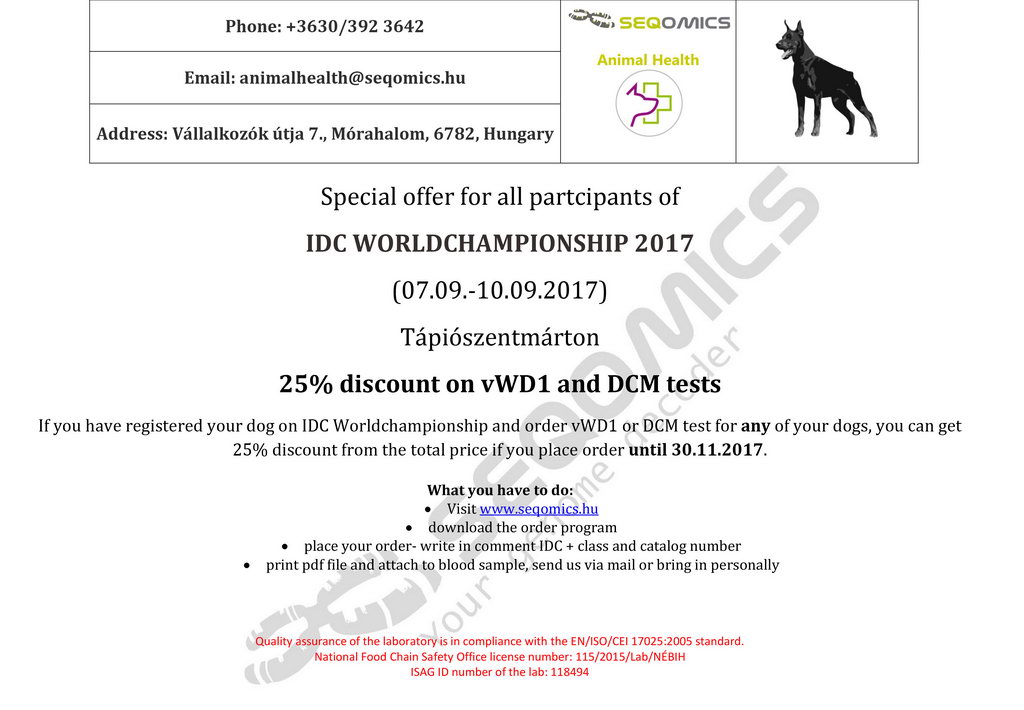 ---
04.07.2017.
Seqomics Ltd. Animal Health Laboratory hereby notifies its Customers that abuses have been made with our results. In several cases it turned out that dogs were sold with falsified Interpretation Forms. If you have purchased a dog with our Interpretation Form and have doubts, we can provide information in return for the presentation of appropriate documents (sales contract, credentials of ownership).
---
30.05.2017.
Changes in payment and billing
Up to now there was a two-week deadline in payment from the receipt of the result. This system will change as follows:
Upon receipt the order, we will send an invoice with the transfer data and an ID number.
You will get the results only after successful bank transfer or payment.
Order forms filled out by hands result in a surcharge
Please download the softver from our website (www.seqomics.hu) and send us the printed order form with the blood sample.
Please allow updating the client program regularly. You can access changes and new genetic tests can only in this case.
For hand written order forms 2.00 EUR will be charged per dog.
If you want additional tests from samples stored in our Biobank, send the order form in email to animalhealth[(at)]seqomics.hu.
For more information, please visit our website (www.seqomics.hu) or contact us (animalhealth[(at)]seqomics.hu, + 36303923642).
---
15.04.2017.
SeqOmics Ltd. Animal Health Lab hereby informes customers about dog A-locus tests. Based on the recent literature we examine 4 alleles: Ay, aw, at, a.
These alleles are determined by 3 point mutations: c.244G>T (aʸ), c.248G>A (aʸ), c.286C>T (a) (Berryere et al. 2005) and a 239 bp insertion aka. SINE element (at) (Dreger et al. 2011).
We would like to pay attention particularly on the fact that results based on these data may differ from results of laboratories examining only the previously described 3 mutations.
References:
Berryere TG, Kerns JA, Barsh GS, Schmutz SM (2005) Association of an Agouti allele with fawn or sable coat color in domestic dogs. Mamm Genome 16, 262-72.

Dreger, Dayna L. and Schmutz, Sheila M. 2011. A SINE Insertion Causes the Black-and-Tan and Saddle Tan Phenotypes in Domestic Dogs. Journal of Heredity 2011 102: S11-S18
---
01.03.2017.
Our company has started to support the local dog shows in the 2017 exhibition season. The coupons can be used until 31. December 2017. The discount cannot be combined with any other discounts, but the order can be combined with any other orders with reduced price (Club discounts, number of samples dependent discounts).